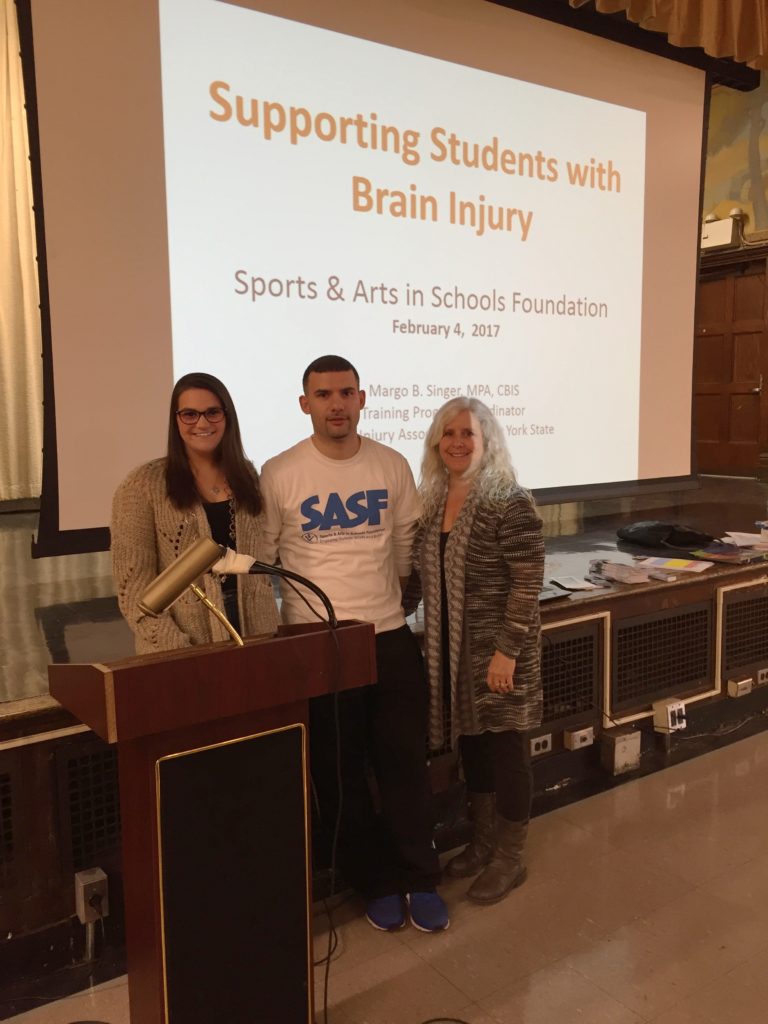 I had my first speaking engagement of 2017 on February 4th when I accompanied Margo Singer, Training and Program Services Coordinator for the Brain Injury Association of New York, for a training session in Astoria, Queens at P.S 70 Q. I had the opportunity to speak to coaches and program coordinators from the Sports and Arts in Schools Foundation. There were about 35 young men between the ages of 21 and 27 who volunteer their time. I led off by telling my story and how my concussions changed my life. I gave insight into how they should handle a possible concussed athlete. Everyone in the room was moved by my story.
Margo followed me with about an hour presentation. It was very informative and included how to recognize the signs and symptoms of concussions, the treatment for the concussed, and the return to play protocol.
The presentation was followed by a luncheon where everyone got to mingle. Many of the volunteers came up and thanked me for sharing my story. However, one of the volunteer coaches was particularly moved by my story. He had been a star athlete and had incurred several sports related concussions. He could never play contact sports again, and he was still suffering some of the long – term effects of post concussion syndrome. He felt that by volunteering at SASF was his way of taking his terrible situation and making the most out of it. He said to me that "Even though I can't be that star athlete ever again, maybe I can help one of the youth I work with live the dream that I can only think about." And with that, the volunteers were off to their next training to learn how to be a volleyball coach.
Save